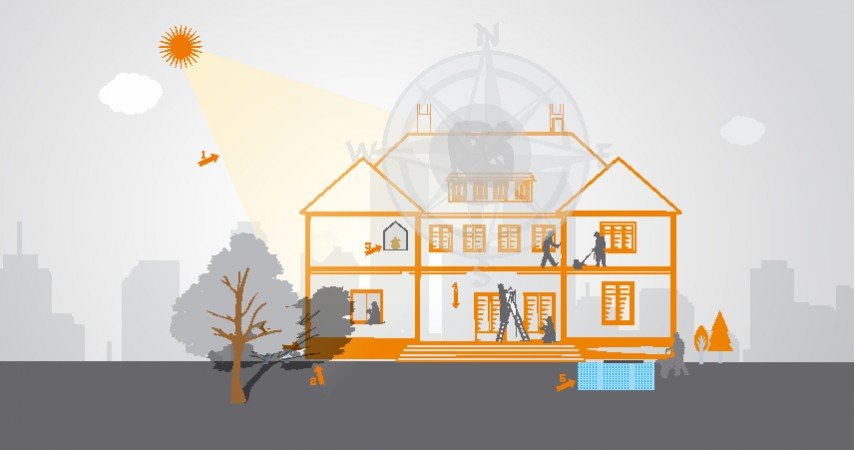 India is known for its beautiful Culture and Traditions and also for its science of Architecture. In Ancient Indian Homes, Palace and Temples are designed and build on the Guidelines of the ancient Indian science of architecture which is also named as "Vastu Shastra". Vastu Shastra which is literally Translate to "Science of Architecture" and its ancient guide line for the positive home from right from your entrance to drawing room , bedroom , Pooja Room, kitchen, outdoor, garden etc. Vastu Shastra will bring the positive vive and energy in every corner of your house which Enlightening you and your Family Lifestyle.
Here we are sharing you some tips of Vastu Shastra which brings Good Luck in you and your Family life.
- Entrance is the place where any person can enter to home. A beautiful Entrance attracts wealth and prosperity. According to Vastu Shastra the main entrance should face north, east or in the north-east direction. Top of the wall Cover up with the Ganesha statue or picture, Ganesha symbolizes prosperity; it stimulates the energy inside the house.
- Living Room is the main part of the home which makes the first impression to the guest and get together for social gatherings. And it is also the place where all the family members get together. So living room should be in the direction of north, east or north-east so that the light directs enter to your living room and makes full airy. Always post positive energy picture in the wall which makes you and family peace of mind.
- Kitchen is the food factory of our home and it needs to be in perfect balance because the two opposite force of nature, fire and water, exist here. Try to set up your kitchen in the southeast corner of your house. And it is important that stove and sink are placed in such a way that they do not collide each other.
- Bed Room is the place where the people take a good power nap and relax and remove stress of the whole day. So bed room should be bright colors as it has a huge impact on energy manipulation and your mood. Bed is placed in such place where natural light reflects on it. If it is the room of a couple, keep a single mattress instead of double. It is the symbol of togetherness.
- Pooja Room is must in every home. Most auspicious direction for Pooja room that it place in the North-east direction. One should face towards East/North while worshipping. A Pooja room should never be made in a bedroom or on a wall adjacent to the bathroom wall.